Throughout the TRS website words will be underlined indicating connection to a link for related information, so click on the underlined word for more details. To navigate to each sub section just click on the area of interest in the title above or list below. Please use the "back button" on your browser page to return to the TRS website.
Our ongoing involvement in the hobby of real steam engines.
We have repaired, retrofitted, weathered and built working scales models of steam powered boats, cars and trains. We have serviced customers worldwide whether it be information, construction or repair/replacement on models. The models we serviced are operated either manually or by RC control. For those who power their models with electronically, we start in the hobby with electric power and have numerous years of experience. Working with manufacturers of Aster, LGB, Aristocraft, Accucraft, Tamiya , Roundhouse, Pearse, Saito, Dumas has been very satisfying on a personal and professional level.
The Triple R Services has grown out of an interest in several hobbies related to transportation.  We have enjoyed the hobby of models since 1983.  Our passion for live steam on the road, along the river and traveling on the rails was the starting point to actively engage the functional operational aspects (how they work and making them work better) of steam vehicles.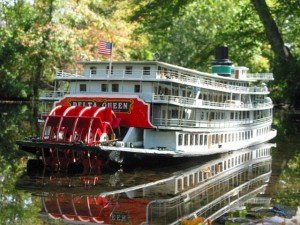 On the river  on an enjoyable early fall afternoon.  The live steam scale Saito model of the Delta Queen built by TRS
On the road:
A fully operational scale model of a Stanley Steamer
Building of the Aster Berkshire completed in 35 hours successfully by TRS
We have experienced coal firing steam engines ranges from gauge one to firing a full scale steam engine in service.
Our knowledge and skills have been published. A good reference is the MLS site and it's informational thread:
Contributions to Informative threads on MyLargeScale by Charles and Ryan
The well known Steam in the Garden accepted the following articles: Accucraft GS4 (product review), Accucraft Cab Forward (product review & upgrades), Aster Berkshire (product build), and  Cabin Fever Steam-up (public presentation).  Our reviews have been on public forums such Aristocraft  (Aristocraft.com), and My Large Scale (mylargescale.com).  We were invited to contribute in the book publication of  Building a Garden Railroad.
The sights and sounds will make you a believer that the gauge one experience is next to owning the real thing:
The ability to upgrade, repair or modify a steam engine requires experience.  A working knowledge of various steam applications allows for a perspective in determining what is necessary to be done on a given job:
The experience level of our shop includes the working knowledge and ability to operate a real 1:1 steam locomotive in actual revenue service.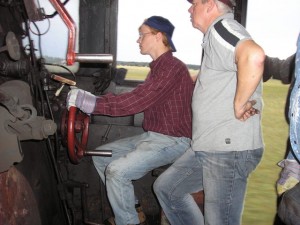 Ryan engineering one of several coal fired commuter train he 0perated (this one having 17 station stops) in Poland.
Web master and designed by: Matthew Bednarik
Contact: idodesignatgmail.com