Throughout the TRS website words will be underlined indicating connection to a link for related information, so click on the underlined word for more details. To navigate to each sub section just click on the area of interest in the title above or list below. Please use the "back button" on your browser page to return to the TRS website.
Aster Owners: Need parts or supply materials for Aster locomotives contact us.  We either have them or can get item necessary to keep your valuable Aster in steam.
Products:
We make custom parts and castings for gauge one locomotives.   Contact us for your situation.
-Rod bearings
-Portable track
-Heater valve
-Modified lubrication tube
-Combination levers
-Goodall valves
-Water bottles
-Custom parts
Custom Built Track Platforms (we do not lay track!)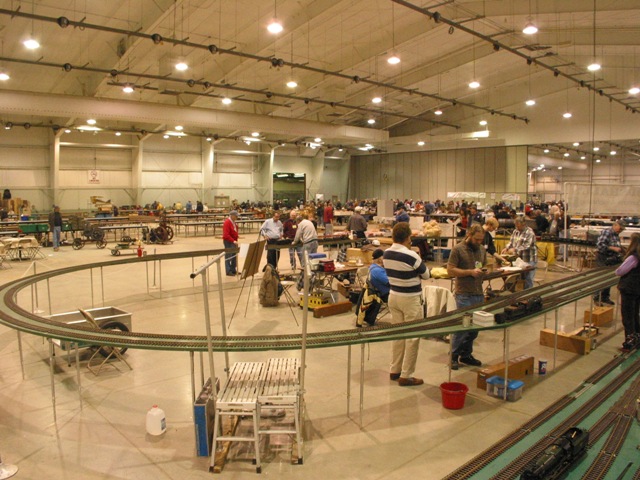 TRS portable track
The TRS portable track in action at the public forum, Cabin Fever
Current track project
Completed platform with a start of track layout-
Able to withstand weather extremes from hot summer to the cold winter (over a foot of snow):
Full overview of main track without yard sections
Start of laying the rails:
The frame now completed with reinforcements to support more than 175 pounds at any point
A demonstration of support of weight with 175 pounts in the center of the frame:
A light weight but strong paint-able surface of dibond that is durable and easy to maintain keeping the weight of the platform (aluminum) a very light weight platform.
Here is a sample of the track frame offered
Cost(*):  Each layout frame is unique to the desires and needs of each track design.  A basic starting estimate would be $3.75 to 4.25 per square foot (base unit) with final cost depending on width and length along with need for surface, paint, or legs. The example plan for the above plan with dimensions of 30 x 50 along with dibond surface and legs.
(*) Price can change without notice relative to cost of materials, supplies, labor, and manufacturing process.
Running gear email us for price and availability
Accucraft GS4 Combination kits: We offer the parts and instructions for anyone who would like to upgrade their Daylight locomotives
Accucraft AC-11/12 Combination kits: We offer the parts and instructions for anyone who would like to upgrade their Daylight locomotives
Rod Bearings: Anyone who would like to upgrade their GS4 or Cab Forward with ball bearing rods can swap the OEM pieces by sending to us the stock piece and get back a retrofitted set of rods with ball bearings.
Boilers
Here are a few boilers that are common to projects and production locomotives being offered:
Project boiler, K27,  Mogul, NYC Hudson, Aster K4, J611,
In development: N&W Class A, Southern Pacific AC-9